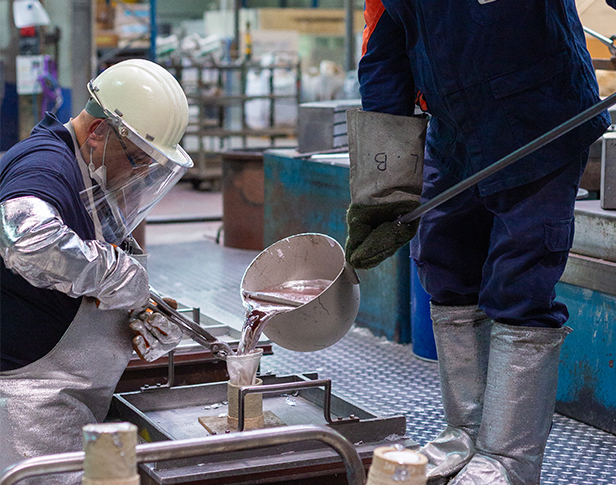 INVESTMENT CASTING
Aviagroup Industries also masters traditional know-how: investment casting, which makes it possible to produce complex aluminum parts such as ventilation components, trailing edges, or missile bodies. This process is divided into different sequential steps:
Production of ceramic cores
Wax Pattern injection
Wax Tree Assembly
Shell Building
Dewax / Burnout
Metal Pouring
Shell Knock Off
Cut-Off
Straightening / Finishing
With its expertise in aeronautical sheet metal working, Aviagroup Industries has recognized know-how in the transformation of hard metals and light alloys dedicated for the manufacture of primary parts and aerostructures sub-assemblies for aircrafts engines and structure sub-assemblies. Aviagroup Industries also works hard metals and light alloys thanks to its cold forming skills and its various means of:
Laser trimming (2 and 5-axis)
CNC trimming (3 and 5-axis)
Fitting
Rolling up to 4 meters
Bending
Simple, double, and triple effect stamping from 100T to 1000T
Drawing
Stretching
Bending
Folding from 1.5 meters to 4 meters
Laser cutting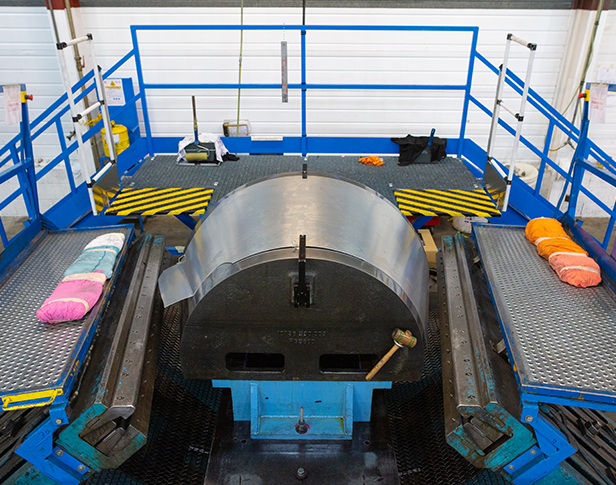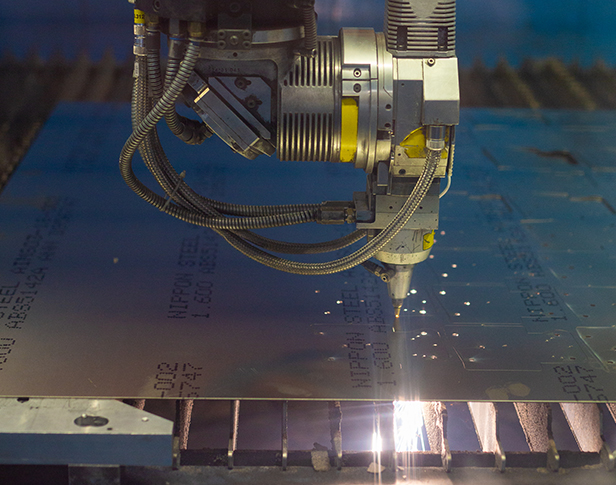 PRECISION MACHINING
Aviagroup Industries Group can thus machine complex parts and sub-assemblies in aluminum, titanium, stainless-steel/Inconel and is able to meet the specific needs of its customers. Aviagroup Industries relies on a sizable fleet of machining centers:
Conventional machining (3, 4 and 5-axis).
CNC mechanical machining (3, 4 and 5-axis).
Trimming dedicated to long profiles machining.
SURFACE TREATMENT
Aviagroup Industries has invested internal capability for its NADCAP-approved surface treatment special processes. Based on its strong machining skill, the Group offers its customers a reduction in costs as well as shorter delivery times. Aviagroup Industries relies on its cutting-edge automated facilities for multiple surface treatment processes:
Degreasing (NADCAP).
Etching (titanium, inox and aluminium) (NADCAP).
Chemical machining.
Heat treating until 6.5 meters.
Anodising CAA, SAA, TSA (NADCAP).
Alodine (NADCAP).
Passivation on hard metals (NADCAP).
Shoot peening
Polishing.
Coating, Painting.
The inspection and the control of materials carried out by the Group at each phase of the components production cycle makes it possible to verify the conformity of the metal, the quality and the safety of the final product delivered to customers. Aviagroup Industries provides the following non-destructive testing processes (NDT) for its customers:
Dye penetrant testing S2 S3 S4 (NADCAP).
Radiography, X-ray inspection (NADCAP).
3D scan laser.
All special processes are NADCAP qualified and the Group has also plentiful customers qualifications such as Airbus, Airbus Helicopter, Bombardier, Dassault Aviation, Latécoère, and even Safran.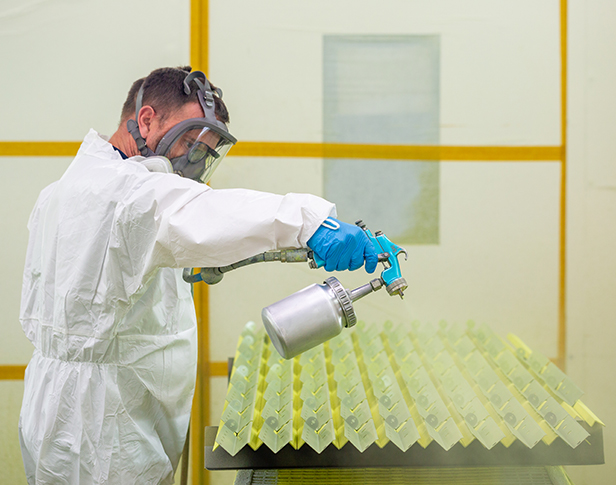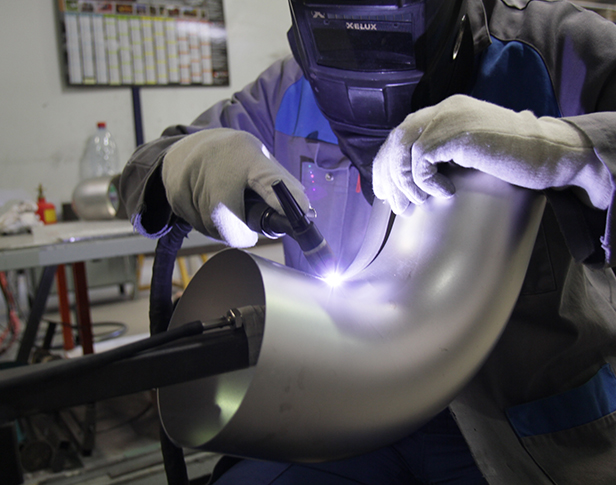 ASSEMBLY
Aviagroup Industries offers primary parts and sub-assemblies based on the vertical integration of all processes. The assembly final step of primary parts into aerostructure sub-assemblies is therefore essential before the final product delivery to the customer. Aviagroup Industries has all the skills needed to assembly complex metal aerostructures for aircraft and helicopters, civil and military.
With an optimized management of its Supply Chain, as well as a strong capacity of integration of all components, Aviagroup Industries offers to its customers a complete production support. The aerospace industry leaders therefore find at Aviagroup Industries a perfect certified mastery of the complexity of assembly operations, such as aeronautical welding (manual TIG, laser, spot, rotary), metal / metal bonding, and riveting, which guarantee the delivered product's conformity. These processes are representative of a mastered know-how and allow the production of "work-packages" of sub-assemblies such as aircraft wings (flaps) and helicopters structures (floors).